This is the eigth event in this Food Talks series which will celebrate its first year of hosting inspiring speakers from our community. Come join us to meet and mingle with other foodies, and to hear some enlightening women chefs as our speakers.
Our Speakers Line-up:
Karen Barnaby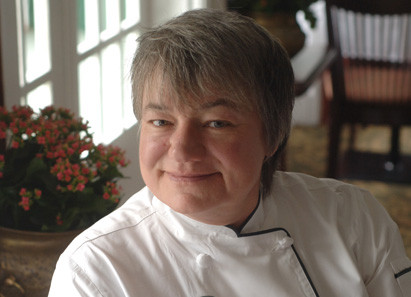 Karen Barnaby started cooking at the age of eight and has not been able to stop. Her professional career started twelve years later on a pink, four-burner electric stove in the basement of The Bohemian Café in Ottawa where she baked carrot cakes, cheesecakes, quiches and other culinary marvels of the late 1970's.
Karen has lived and worked in Toronto at The Rivoli and the David Wood Food Shop, and in Mexico as a private chef. Vancouver has been her home since 1991 where she has held the position of Executive Chef at the Raintree Restaurant and the Fish House in Stanley Park.  Her current role is as Chef of Product and Business Development for Albion Fisheries, Intercity Packers, and Fresh Start Foods under the Gordon Food Service umbrella.
With her no-nonsense and approachable style, Karen is a well-respected cooking teacher, speaker and inspirational role model. She is the only female chef to be honored with the British Columbia Restaurant and Foodservices Association Back of the House Award for Excellence and has received a Minerva Award for Community Leadership.
Karen has written and edited award-winning cookbooks, contributed recipes to numerous publications and writes a popular column for the Vancouver Sun.
As a volunteer, she has edited the Helping Hands Cookbook, written to support Vancouver's Community Kitchens Project, sat on the board of The Greater Vancouver Food Bank, and was the Scholarship Director and past president of Les Dames d'Escoffier Vancouver Chapter. Karen looks after her neighborhood first and lends her skills to various services in the DTES.
Meeru Dhalwala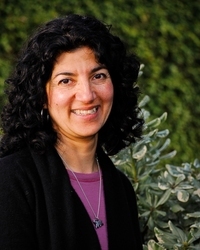 Meeru Dhalwala was born in India and moved to Washington, DC, at a very young age with her parents. In DC, she worked with various international non-profit organizations on human rights and economic development projects. She received her Master's degree in Development Studies from Bath University in England. In 1995 Meeru moved to Vancouver and joined her husband, Vikram, to work at his newly opened restaurant, Vij's. She quickly took over the menu responsibilities and has been creating new recipes since the summer of 1995.
In 2002, Meeru and Vikram opened up a second restaurant and market called Rangoli. Meeru continues to work closely with her all-female kitchen staff – all of whom hail from villages in the Punjab – to experiment with various cooking techniques and spice combinations. In addition to her responsibility for the recipes at Vij's and Rangoli, she is also responsible for their packaged gourmet curries, which are sold at Rangoli and many gourmet markets across Canada.
Meeru's particular interest and focus at Vij's and Rangoli is to forge business relationships with other local businesses and farmers. She is committed to improving her business environmental footprint. In 2009, Meeru signed up Vij's to join local CSA (community supported agriculture) farms and has started long-term business relationships with various BC farmers. Meeru's special community project is an annual international food fair called "Joy of Feeding" that is held every summer in Vancouver. Joy of Feeding features 15 – 16 home cooks of various ethnic backgrounds and professions showcasing their family favorite comfort foods.  This event is held at UBC Farm and is also a fundraiser for the farm.
Meeru and Vikram have penned two cookbooks: Vij's: Elegant and Inspired Indian Cuisine, which won Cuisine Canada's 2007 Gold Award for Best Cookbook, and Vij's at Home: Relax, Honey. Meeru also wrote a regular monthly column called Food for Thought for the Vancouver Sun for over a year and was a regular Point Person for CBC radio's 2009 national show The Point. In November 2012, Meeru opened a new restaurant called Shanik, in Seattle, Washington in partnership with Oguz Istif, who is also involved in heading finance and operations for the Vij's companies in Vancouver.
Susan Mendelson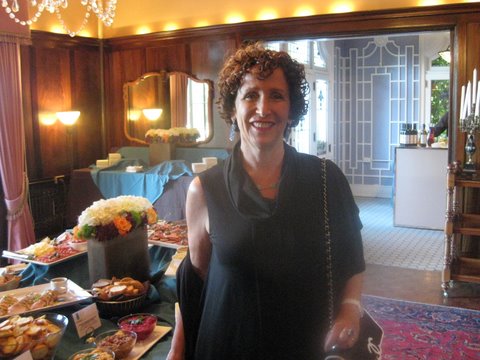 Susan Mendelson co-founded the Lazy Gourmet in 1979 and her catering company has been going strong ever since, she loved working with people and loved cooking. Her first cookbook started with the concept of simplifying classical recipes for people who wanted gourmet food but who were to "lazy" to follow all of the complicated steps, it's title, "Mama Never Cooked Like This" in 1980. Susan has also written, "Let me in the Kitchen" in 1982, "Nuts about Chocolate" in 1983, "Fresh Tarts" in 1985, "Expo '86 Souvenir Cookbook" in 1986, "Still Nuts about Chocolate" in 1992, "Food to Grow on" in 1994, "The Lazy Gourmet Cookbook" in 2000. Over 30 years later Susan Mendelson released her newest and magnificently orchestrated group of recipes in "Mama Now Cooks Like This" in 2006.
Over the years she has shared her recipes on radio, television and in the ten cookbooks. It's been over 30 years and Susan still feels passionate about delicious and beautiful food and believes that only the finest ingredients should go into any food that is created. Susan has supported many organizations over the years with donating a percentage of royalties of her books including Big Sisters of BC along with the Vancouver Jewish Family Service Agency Food programs.
Angie Quaale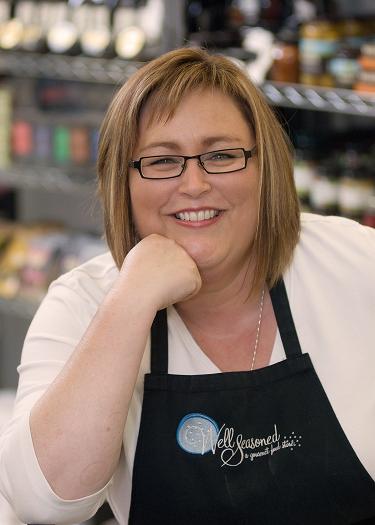 Angie Quaale founded Well Seasoned in 2004 after working for several years in hotels & fine dining and a career in commercial food sales specializing in menu development and retail food distribution.
Angie is also the Head Cook/Pitmaster of her competition BBQ Team which has traveled all over North America competing in BBQ contests.  Angie has been the President of the BC chapter of Les Dames d'Escoffier, a Board Member of the Pacific Northwest BBQ Association and the 1st Vice President of the Greater Langley Chamber of Commerce, the Co-Chair & a founding board member of the Langley Community Farmers Market &  has also been recognized by Women's Enterprise Centre as one of BC's 100 New Pioneer Women Entrepreneurs 2008.  In 2006 Angie was recognized by the Greater Langley Chamber of Commerce as the Entrepreneur of the Year and in 2007 as the Small Business of the Year.   Angie LOVES the work she has the opportunity to do everyday and the fantastic people she gets to do it with.
Merri Schwartz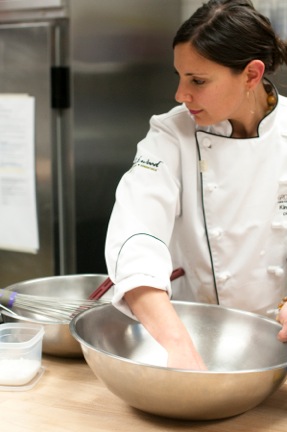 (photo credit: Heather Goldsworthy)
Merri Schwartz credits her childhood with awakening her interest in baking. Raised by back-to-the-land hippies, she didn't buy her first bag of granulated sugar until the age of 18. She learned in a kitchen filled with carob, honey, and whole wheat flour that everything could and should be homemade. A whirlwind pastry career later, Schwartz has been lucky enough to serve as pastry chef at some of BC's best restaurants since 2002, including King Pacific Lodge, C Restaurant, Quattro on Fourth, Raincity Grill, The Granville Island Hotel, and Cocoa West Organic Chocolatier, as well as training at the Valrhona Chocolate Institute, outside of Lyon, France.
The same passion for food and agriculture led Schwartz to found Growing Chefs! Chefs for Children's Urban Agriculture in 2005. This Vancouver-based, non-profit organization pairs chef volunteers with elementary school classrooms, where the chefs help the students plant, grow and cook their own vegetables. Schwartz founded Growing Chefs! with the hope that sustainable practices will become integral to living and cooking in Vancouver, and in cities like it all over the world. After acting as the executive director of Growing Chefs! for four and a half years, Schwartz joined the board of directors as the chair in 2010.
The Evening: Enjoy tasty appetizers by the chefs at The Westin Grand followed by a wonderful line-up of speakers who will talk about themselves and their role as a Woman Chef in the Food Community. Following the speakers, Richard Wolak -Founder of Food Talks, will moderate a Q & A where you will have a chance to ask questions and engage with the speakers. There will be a draw for prizes.* Wine, beer, cocktails and other beverages will be available for purchase.  You will also receive a treat from Binh's Lollicakes to celebrate our 1st year Anniversary of Food Talks.
Growing Chefs is our designated charity, support their wonderful organization that educates children on the food community in the public schools.
Buy Tickets via Eventbrite:
http://foodtalksvolume8.eventbrite.com/
Advance Tickets: $30 per person
Regular Tickets: $40 per person after June 8th
Note: Eventbrite fee extra. A donation of $3 from each ticket purchased will go to support Growing Chefs.
Note: Limited tickets available. All ticket sales are final. No exchanges or refunds; however they are transferrable in advance with printed proof of ticket. ALL Tickets must be purchased in advance online. Event produced by CMI Chat Media Inc
Charity Partner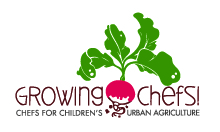 Location & Appetizers Sponsor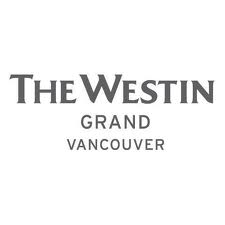 Video Sponsor
Treats Sponsor